Mirela G. Tulbure
Associate Professor
Email:
mtulbure@ncsu.edu
Office address:
Jordan Hall 5227, North Carolina State University
Raleigh, NC 27695 USA
Field of Research:
Remote Sensing of Environment, Dynamic Networks, Landscape Ecology, Spatial Ecology, Vegetation Health
Biography:
I am an Associate Professor with the Center for Geospatial Analytics and the Department of Forestry and Environmental Resources at North Carolina State University.
I have recently relocated (August 2019) from the University of New South Wales (UNSW) in Sydney, Australia, where I had a faculty position as an Australian Research Council DECRA fellow and a senior lecturer in the School of Biological, Earth and Environmental Science. Since joining UNSW in 2012, I have built the Geospatial Analysis for Environmental Change Lab.
My work focuses on the integration of ecological research with the application of remote sensing, Geographic Information Systems (GIS), and spatial statistics across various spatial (landscape to continental) and temporal scales. Reaching across disciplines, I conduct quantitative research using terabytes of satellite data and high performance computing. Results can underpin water policy and management in areas with competing water demands.
Research
CURRENT WORK
I am currently working on modelling extent of surface water dynamics using decades of satellite time series across large areas, quantifying spactiotemporal connectivity of surface water habitats using network analysis, quantifying vegetation response to flooding, and characterising vegetation health using airborne lidar and hyperspectral and satellite time series data. Current projects focus on the Murray-Darling River Basin, an area that covers one seventh of Australia and is subject to competing water demands. Prior work has focused on the southwest of Western Australia (one of the 25 global biodiversity hotspots in the world), the U.S. Great Lakes and Northern Great Plains and the Danube River Basin.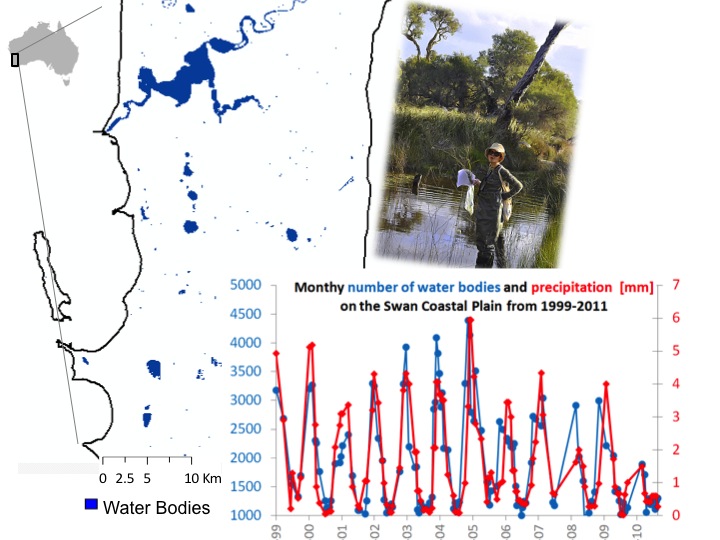 FORMER WORK
1. Geospatial Analysis of Agroecosystems: Together with Professor Mike Wimberly I utilized large area remote sensing and spatial statistics to understand the environmental impacts of associated land use and land cover change and effects of increasing food and energy needs on cropping patterns in the U.S.. As part of this project, my research has assessed the climatic and genetic controls of yields of switchgrass, a model bioenergy species (Tulbure et al 2012a, featured on-line on Renewable Energy Global Innovations), and projected changes in yield under future climate scenarios (Tulbure et al 2012b). This research also showed the prevalence of prescribed burning across the U.S., resulting in increased CO2 and greenhouse gas emissions (Tulbure et al 2011).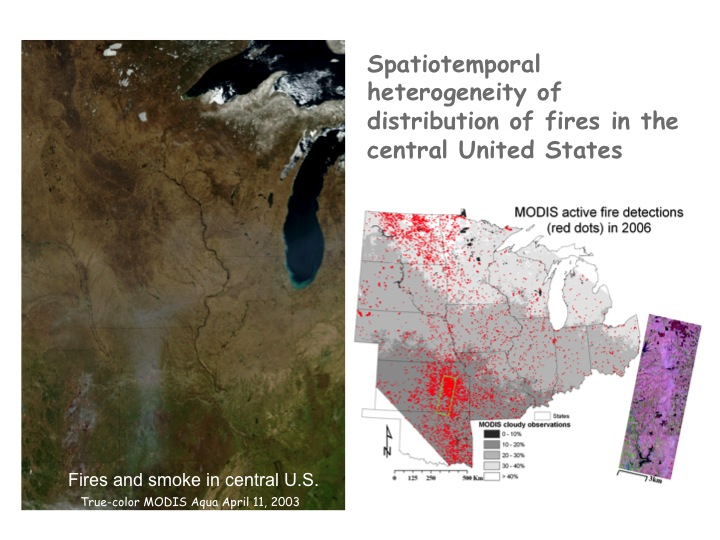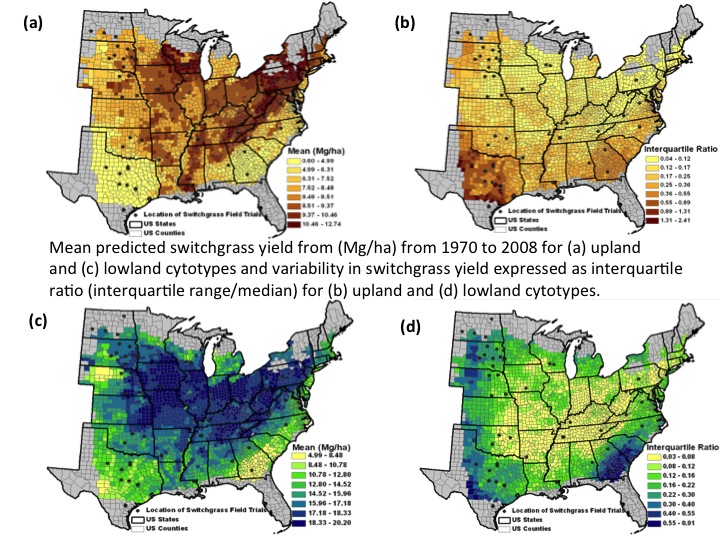 2. Great Lakes Environmental Indicators Project: This research was part of a large multi-institutional project to develop indicators of Great Lakes wetlands condition based on different groups of biota. As part of this project and together with Professor Carol Johnston, I have looked at what factors influence plant invasion in wetlands (Tulbure et al 2008, Tulbure and Johnston 2010) and how satellite images can be used for mapping wetland vegetation and invasive species (Ghioca, Johnston and Tulbure 2010). I have also teamed up with scientists at the Smithsonian Environmental Research Centre to understand factors that impart invasiveness in plants (Tulbure et al. 2012).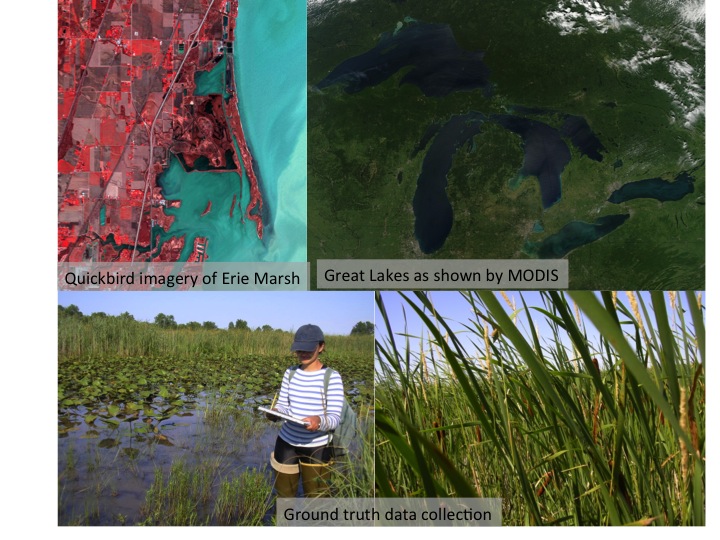 Teaching
Mirela's teaching interests are in increasing student's ability to use satellite data to answer environmental questions and extract space time value added information relevant for ecological applications.
Advanced techniques in Remote Sensing (GEOS3811) - Lecturer, semester 1
Ground and Surface Water (GEOS2291) - Lecturer, semester 2
Scholarships:
2017 Remote Sensing of Environment - Outstanding Contribution in Reviewing (March 2017)
2015 NSW Young Tall Poppy Science Award from the Australian Institute of Policy and Science in recognition of outstanding research/academic achievement as well as excellence in communication and community engagement to promote an understanding of science
2014 Australian Research Council Discovery Early Career Researcher Award
2014 Open Science for Synthesis fellowship at the National Centre for Ecological Analysis and Synthesis (University of California)
2014 Shortlisted for L'Oreal Australia and New Zealand for Women in Science Fellowship
2013 China Australia Young researcher award to travel to China to establish collaborations with Chinese partners and represent Australia (among 16 early to mid-career awardees across Australia's Group of Eight Universities, two awardees from University of NSW)
2012 ACEAS workshop invitation: Local to national – the capacity for increasing the spatial scale of monitoring
2007 Society of Wetland Scientists Research Grant
2007 Society of Wetland Scientists North Central Chapter, Travel Award
2007 Graduate Research Award (South Dakota State University, SDSU)
2006-2007 four Travel Awards (SDSU)
2006 Excellence in Teaching Award (SDSU)
2005 Joseph Nelson Award, SDSU ($5,000 research funds)
2003 Outstanding MSc Student Award, Central European University, Hungary
2002 Open Society Foundation Scholarship to undertake MSc Program ($11,600)
2002 Best Student of the Faculty Award, Ministry of Education and Research Romania
2002 Sarghie Bucovinian Brothers Foundation Award for the best student of the faculty, University of Bucharest
Publications:
Underlined are our lab's PhD students
---